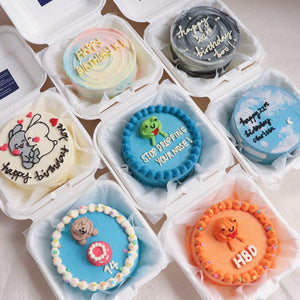 Custom (RESTOCKED)
Regular price
$32.00
$0.00
Unit price
per
Only limited slots released monthly!

- lead time of at least 6 days from delivery date, else it will be cancelled
- Do note you are purchasing 1 slot for custom bento cake
- Once you made payment we will contact you in 3-5 working days via WhatsApp to discuss your design or you may also drop us a message with your design & order number to 88891529 once you've placed your order.
- Base price of $32, additional top-up might be required upon final discussion of design
- No cancellations/refunds will be issued, kindly have a backup design in the case whereby we are not able to frost your desired design.
- A photo of the cake will be sent to you on the morning of delivery date for custom orders. Do note that all custom orders will be done accordingly to what is discussed & specified we will not be able to make any changes to the cake once it is done.
---